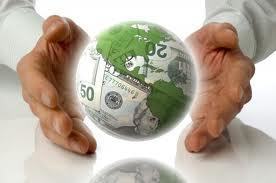 Why some indigenous groups and environmentalists are saying no to the "green economy."...
August 23, 2012 - YES Magazine: Whose Economy? Whose Green?
Just a few years ago, the term "green economy" referred to economies that are locally based, climate friendly, and low-impact. But since the global economic meltdown began in 2007, the green economy has come to mean something more akin to the wholesale privatization of nature. This green economy is about putting a price on natural cycles through a controversial set of policies called "Payments for Ecosystem Services"—an approach to greening capitalism that some liken to a tiger claiming to turn vegetarian...
▶ FINANCIALIZING NATURE COULD BANKRUPT US ALL. OLD ECONOMICS OR SUSTAINING POLICY? http://sco.lt/8Y7sK9
▶ A GREEN, COMMONS-BASED GOVERNANCE: THE RIGHT TO A CLEAN AND HEALTHY ENVIRONMENT FOR ALL SPECIES http://sco.lt/8qokwj
▶ THE RESPONSIBLE ETHICS OF A NEW ECONOMY: SUSTAINABLE AND GREEN WASHING http://sco.lt/8eTGBV
▶ THE CIRCULAR ECONOMY: COULD IT PRESENT A NEW WAY OF DOING BUSINESS? http://sco.lt/8plSHx
▶ BUSINESS AND HUMANITY ARE NOT SEPARATE FROM NATURE http://sco.lt/8gLwmH
▶ WHY CHOOSING NATURE WILL ONLY ADVANCE HUMAN SOCIETIES http://sco.lt/76Gtij
WILL AMERICANS ALLOW PUBLIC SERVICES TO BE PRIVATIZED? http://sco.lt/555xnl
THE TRAGEDY OF THE MARKET, THE PROMISE OF THE COMMONS http://sco.lt/9A468P
PRIVATIZATION OF PUBLIC SERVICES LIMITING ACCESS TO PUBLIC INFORMATION http://sco.lt/8Aq0AL
▶ AN URGENT MEMO TO THE WORLD - The Natural Eye Project - http://thenaturaleye.wordpress.com/2012/07/12/an-urgent-memo-to-the-world/
▶ THE SIXTH MASS EXTINCTION IS UPON US http://sco.lt/4ywB3h
▶ BIODIVERSITY IS LIFE http://www.scoop.it/t/biodiversity-is-life?r=0.6114468505132817&page=2#post_4005104806
SEE
Ongoing News Aggregates of the State Of Our Planet
▶ OUR OCEANS NEED US -- GOING, GOING...http://www.scoop.it/t/our-oceans-need-us
▶ CLIMATE CHANGE WILL IMPACT US ALL - OUR CHANGING PLANET http://www.scoop.it/t/changingplanet
▶ CORPORATE "SOCIAL" RESPONSIBILITY- Corporations Have a Responsibility to Be Mindful of their Impact on Both Environmental and Human Health http://www.scoop.it/t/environmental-and-human-health
▶ BIODIVERSITY IS LIFE Healthy Ecosystems, Healthy Humans http://www.scoop.it/t/biodiversity-is-life
▶ YOUR FOOD, YOUR HEALTH - The Health of Nature is Reflected in Our Food Production http://www.scoop.it/t/agriculture-gmos-pesticides