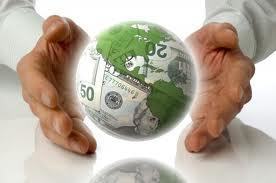 Why some indigenous groups and environmentalists are saying no to the "green economy."...
August 23, 2012 - YES Magazine:
▶ WHOSE ECONOMY? WHOSE GREEN?
Just a few years ago, the term "green economy" referred to economies that are locally based, climate friendly, and low-impact. But since the global economic meltdown began in 2007, the green economy has come to mean something more akin to the wholesale privatization of nature. This green economy is about putting a price on natural cycles through a controversial set of policies called "Payments for Ecosystem Services"—an approach to greening capitalism that some liken to a tiger claiming to turn vegetarian... http://www.yesmagazine.org/issues/its-your-body/going-against-the-green?icl=email_august12&ica=tnDarkSideGreenEconomy
▶ FINANCIALIZING NATURE COULD BANKRUPT US ALL. OLD ECONOMICS OR SUSTAINING POLICY? http://sco.lt/8Y7sK9
PRIVATIZING EVERYTHING
THE PUBLIC-PRIVATE "PARTNERSHIP"
The Guardian, March 10, 2015
▶ 'BY SEPARATING NATURE FROM ECONOMICS, WE HAVE WALKED BLINDLY INTO TRAGEDY ' http://www.theguardian.com/global-development-professionals-network/2015/mar/10/jeffrey-sachs-economic-policy-climate-change
IUCN, January 29, 2015
-▶ ACCOUNTING FOR NATURE : FAILING TO PROTECT NATURE'S CAPITAL COULD COST BUSINESSES TRILLIONS http://www.iucn.org/news_homepage/?18861/Failing-toprotectnaturescapitalcouldcostbusinessestrillions
▶ WHAT IS CORPORATE "SOCIAL" SUSTAINABLE RESPONSIBILITY - CSR CSSR http://sco.lt/541gIb
▶ A GREEN, COMMONS-BASED GOVERNANCE: THE RIGHT TO A CLEAN AND HEALTHY ENVIRONMENT FOR ALL SPECIES http://sco.lt/8qokwj
▶ THE RESPONSIBLE ETHICS OF A NEW ECONOMY: SUSTAINABLE AND GREEN WASHING http://sco.lt/8eTGBV
THE CIRCULAR ECONOMY
COULD IT PRESENT A NEW WAY OF DOING BUSINESS?
▶ BUSINESS AND HUMANITY ARE NOT SEPARATE FROM NATURE http://sco.lt/8gLwmH
▶ WHY CHOOSING NATURE WILL ONLY ADVANCE HUMAN SOCIETIES http://sco.lt/76Gtij
▶ THE TRAGEDY OF THE MARKET, THE PROMISE F THE COMMONS http://sco.lt/9A468P
▶ HOW A SENSE OF SACRED CAN HELP SUSTAINABLE BUSINESS AND ENVIRONMENT: RESTORING VALUES http://sco.lt/7ArNtB
ECOLOGICAL ARMAGEDDON
EXTINCTION CRISIS
WE HAVE DISAPPEARED HALF OF THE WORLD'S WILD ANIMALS IN 40 YEARS: http://sco.lt/8fK5eT
-▶ HUMANS ARE TURNING THE EARTH INTO A 'LONELY AND VERY DANGEROUS PLANET,' ECOLOGIST WARNS http://sco.lt/4xff17
THE END OF GDP GROWTH
TRANSFORMING BUSINESS FOR TOMORROW'S WORLD
▶ WATER PRIVATIZATION: ESCALATING AT ALARMING RATE: THE LEGAL RIGHT TO WATER http://sco.lt/8Aq0AL
▶ AT THE LIMITS OF THE MARKET: WHY CAPITALISM HASN'T (CAN'T) SOLVE CLIMATE CHANGE http://sco.lt/84Vywz
NationofChange, July 27, 2014
-▶ THE EMPIRE ECONOMY DOES NOT SERVE THE ECONOMY OF PEOPLE http://www.nationofchange.org/empire-economy-does-not-serve-economy-or-people-1406466461
-▶ WHO'S IN CONTROL - NATION STATES OR GLOBAL CORPORATIONS? DOES YOUR DEMOCRATIC VOTE EVEN COUNT http://sco.lt/5Vb2dl
▶ AN URGENT MEMO TO THE WORLD - The Natural Eye Project - http://thenaturaleye.wordpress.com/2012/07/12/an-urgent-memo-to-the-world/
▶ THE SIXTH MASS EXTINCTION IS UPON US http://sco.lt/4ywB3h