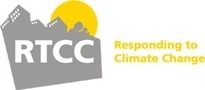 August 14, 2012 - RTCC by By John Parnell -
If you suspend your cynicism long enough, an emerging pattern in the corporate world suggests the dawn of the new, more organic corporation is upon us, and they care about climate change, the environment and resource depletion.
The financial crisis is just one of many drivers that Giles Hutchins, author of The Nature of Business, sees ushering in a new era for business. His message for leaders is clear. "IT'S TIME TO LEARN FROM THE NATURAL WORLD" -- You evolve or you die. The economy as it was is not coming back. Changes are needed.
Hutchins outlines six principles for business to take from nature, build resilience, optimise don't maximise, adapt, integrate systems, navigate by values and support life.
Hutchins is a management consultant, formerly of KPMG, who specialises in applying lessons from nature to help businesses boost their sustainability through practices like biomimicry and cradle-cradle production patterns.... http://www.rtcc.org/business/why-a-new-business-era-inspired-by-nature-not-greed-can-benefit-us-all/