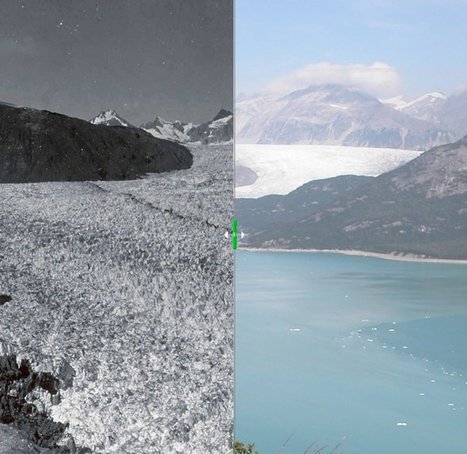 What if you could peer back in time to see how glaciers melted over generations? Or how a major wildfire scarred the earth in a few days?
Launched in 2010, NASA's "State of Flux" image gallery shows the impacts of climate change, urbanization, natural disasters and other events in both the short and long term.
GLACIAL RETREAT
Between 1941 and 2004, Alaska's Muir Glacier retreated more than seven miles and thinned by more than 875 yards, according to the U.S. Geological Survey's Bruce Molnia.
Before: Muir Glacier, Alaska on August 13, 1941
After: August 31, 2004

(Photos: William O. Field, NSIDC / Bruce F. Molnia, USGS)
Before: McCarty Glacier, Alaska on July 30, 1909
After: August 11, 2004

(Photos: Ulysses Sherman, NSDIC / Bruce F. Molnia, USGS)
According to NASA, Bear Glacier retreated by 1300 feet in 140 years after 1809. Between 1950 and the mid-1990s, it retreated another 0.9 miles. By 2010, it had retreated an additional 1.9 miles in about 15 years. According to the U.S. Geological Survey, Bear Glacier thinned by about 2.5 feet every year between the early 1950s and the 1990s.
Check out a ground level view of Bear Glacier's retreat here.
Before: Bear Glacier Alaska on May 16, 1989
After: May 26, 2010

(Photos: USGS Landsat Missions Gallery, U.S. Department of the Interior / U.S. Geological Survey)
Note: The area depicted in the photos above is about 25 miles wide.
NASA and the USGS explain, "Though a relatively small number of people may live near Alaskan glaciers, shrinking ice on that northern land may indicate bigger changes for millions of people living elsewhere because the meltwater from shrinking glaciers flows to the ocean and raises sea level."