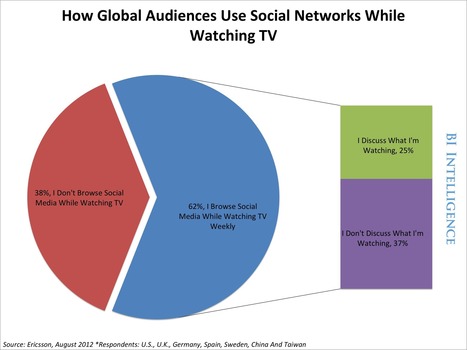 With more than $350 billion spent annually on TV advertising, there's an opportunity for social TV to become a huge business in its own right...
Here's an overview of the rise of social TV:
There's a lot at stake: $350 billion was spent on TV ads globally in 2012. If social TV can help make that advertising more effective, or help social media skim some of those dollars, the opportunity is there for social TV to become a major business in its own right.Social TV is already here: It's already an established habit with audiences around the world, with majorities of social media users saying they routinely comment about TV shows or events. activity has grown hand-in-hand with the mobile explosion. Smartphones and tablets have made it much more convenient for people to comment on TV, even as they watch it. Forty percent or more of U.S. mobile audiences browsed social media on their tablets or smartphones while watching TV. For smartphone users, social media is a more popular companion activity during TV-watching than shopping.
Read more: http://www.businessinsider.com/social-media-amplifying-tv-advertising-2013-6#ixzz2VckPtaw8
Via
siobhan-o-flynn