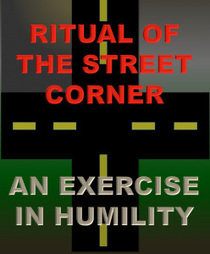 Here is Brin's Exercise...Go to a street corner, preferably one with a very busy four-way -- or eight or twelve (via multiple lanes) -- stop signage not controlled by electronic lights, but simple stop-signs -- where people and cars and bicycles must negotiate traffic rules every second, negotiating right-of-way and movement with quick eye contact, lazy little hand-flicks and brief nods. Watch for a while until it all sinks in. Allow yourself to be amazed at how easy it seems. How relaxed and bored everyone is, with this libertarian miracle or self-regulation.

Then do a slow 360. Notice all the other things that are working! The quiet and efficient courtesies, the technologies, the tiny acts of honesty and cooperation.That person over there could have stolen from that shop, but didn't. Those telephone lines and power cables have been working, nonstop, for at least a decade... and so on. Parse it smaller and smaller.
Notice all the hidden competence of a myriad professionals who make things work...