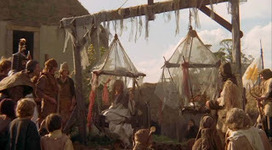 Everyone's heard someone say something along the lines of, "If I'd lived in the Middle Ages, I'd have been burned as a witch."
Because everyone typically knows two things:
1. The Middle Ages were one big witch hunt, until the Renaissance/Enlightenment arrived and everyone returned to sanity.
2. Witches were burned alive, traditionally at the stake.
Via
Mariedmar Rosa Rosa
,
Angela Johnson