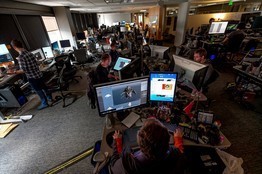 Hiring highly motivated workers is vital to making a boss-free system work. And it isn't for everyone. Most employees take anywhere from six months to a year to adapt, though some leave for more traditional settings, Mr. Coomer says.

The system has its downsides. Without traditional managers, it can be harder to catch poor performers. Even the employee handbook, a packet that explains Valve's philosophy and processes, notes that bad hiring decisions "can sometimes go unchecked for too long."

Recent research on the value of flat organizations has been mixed. One study, by researchers at the University of Iowa and Texas A&M University, found that teams of factory workers who supervised themselves tended to outperform workers in more traditional hierarchies, so long as team members got along well. "The teams take over most of the management function themselves," says co-author Stephen Courtright. "They work with each other, they encourage and support each other, and they coordinate with outside teams.They collectively perform the role of a good manager."

Other studies, however, have found that hierarchies can sometimes boost group effectiveness, and that having a clearly defined role can help people work more efficiently.