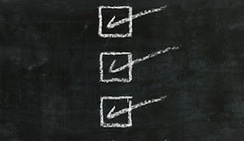 It doesn't matter what area you apply criteria to, as long as it helps you identify what will lead to happiness and meaning.
A bigger question is why don't we apply the same rigor to people and happiness? Why don't we have hiring criteria for the kind of boss we're willing to work for, the clients we'll take on or the colleagues we partner with on a project? The biggest question is why don't we apply the same vigor to ourselves?
1. Let go of the past: This helps my clients focus on a future they can change — not a past they cannot change.
2. Tell the truth: This lets my clients know the truth, not just what they want to hear.
3. Being supportive and helpful: This gives my clients encouragement, not cynicism or sarcasm.
4. Pick something to improve yourself: Everyone should have some skin in the game and be focused on improving rather than judging.
If you're unhappy in your job, list a few qualities of a job that would make you happy. If you're unhappy with your boss, list some qualities of your ideal boss. This is not a tough assignment. It's life planning at its most basic.