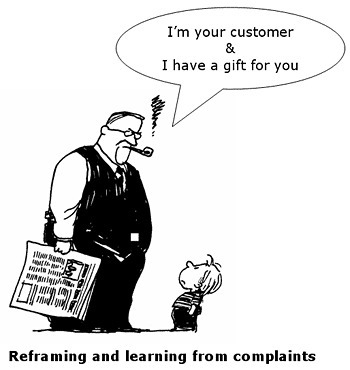 Here is a suggested process for overcoming negative social media comments adapted from the 5 step LAARC sales process for overcoming objections.
1. Listen. For every 1 customer that complains, there are 26 other customers that are having the same problem but remain silent.
2. Acknowledge. If you acknowledge that the negative commenter has the right to express his or her dissatisfaction and show that you actually care about his or her concerns will move you one step closer to overcoming dissatisfaction.
3. Assess. By asking for clarification from the source you can avoid offering a suggestion that will not offer value to the situation and potentially aggravate it further.
4. Respond. You should only respond to the negative feedback when you have a complete grasp about why that feedback is occurring.
5. Confirm. Finally, ask the negative commenter if the plan you have created or suggestion you have made resolves his or her complaint.
- What did you learn about your employees, your company, and yourself after engaging a negative social media commenter?
- How can you act proactively to avoid negative social media comments that may put your employment brand in jeopardy in the future?
- What kind of procedures can you put into place to avoid negative social media comments from being posted?