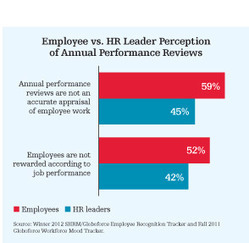 Employees who receive recognition throughout the year are more satisfied in their roles compared to those who only receive it once a year:
• 75 percent are satisfied with the level of recognition they receive for doing a good job at work, compared to 42 percent who only receive annual feedback.
• 91 percent think their manager or supervisor acknowledges and appreciates them at work, versus 60 percent who only get annual reviews.
• 54 percent think people are rewarded according to their job performance, versus 42 percent of employees who get yearly feedback.
Organizations evaluating how to build a strategic recognition program should consider six hallmarks:
- Single, clear global strategy
- Executive sponsorship with defined goals
- Value alignment
- Participation
- Power of individual choice
- Crowd wisdom