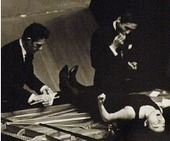 Empires
Synopsis
The film and online project brings together international philosophers, scientists, artists and business leaders to give description and analysis to the contemporary moment as defined by computational tools and networks.
It states that networks are not new and have been forever with us in the evolution of our cities, trade, communications and sciences, in our relations as businesses and nation states, in the circulation of money, food, arms and our shared ecology.
Yet something has deeply changed in our experience of time, work, community, the global. Empires looks deeply to unravel how we speak to the realities of the individual and the notion of the public and public 'good' in this new world at the confluence of money, cities, computation, politics and science.