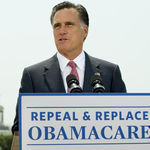 Mitt Romney's campaign is playing a delicate game on health care, increasingly suggesting that Romney's Massachusetts health care law proves he'll protect Americans with pre-existing conditions.
<<By trying to reclaim Romney's health care law as part of his political resume, however, Romney is now inviting the issue back into the campaign. If he wants Americans to elect him based on his Massachusetts reforms, it's only logical to ask him why he doesn't want them for everyone.>>
Mitt's getting completely twisted in his own contradictions again!