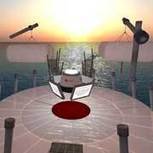 Education in Virtual Worlds :...
This is a flexible programme of study, which will be taught entirely online in the virtual world Second Life. It enables educators to explore the potential of virtual worlds to enhance learning.
'Virtual worlds' (VWs) is the term used to describe online, 3D environments that enable users to interact with the environment and each other through the use of avatars. Virtual worlds now contain many rich and diverse environments, created by users from around the world. They allow users to explore environments and experiences in a way that would be impossible in the real world, but in a way that enhances rather than replaces real world experience. For the purposes of education and training the ability to use these virtual simulations as a teaching tool is proving to have great potential.