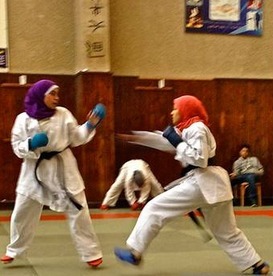 Dominique DeAngelo / Egypt independent
Mira Nassif, former Egyptian judo champion, master's student and small-business owner, credits judo for her current success.
"The courage to start my own design company and take all the necessary risks, starting from scratch and believing how big it could become, was totally because of the judo," says Nassif.
Like Nassif, a growing number of Egyptian women are now joining the ranks of tae kwon do, judo and karate classes and acknowledging the positive impact that training has on their lives. Indeed, such training provides not only excellent exercise but gives trainees real self-defense skills that can be applied in situations of physical or sexual assault.
Beyond this significant benefit, martial arts can also be life-changing, with benefits including increased self-confidence, discipline, focus and general character building.
It may surprise some that martial arts are popular in Egypt with both male and female athletes. These sports became widespread at private studios and sporting clubs from the 1970s onwards.
Today, there are more than 300,000 registered with the Egyptian Karate Federation, not including thousands of judo and tae kwon do athletes, and those who take private lessons.
Most martial arts are seen as appropriate for Muslim women, as the uniforms are conservative and allow women to wear hijabs. In January, the World Karate Federation approved of the use of hijabs in competition.
Egyptian women have a legacy of excellence in martial arts. They have been training and competing alongside their male counterparts on the National Karate Team since its founding in 1971, for example. Egyptian female athletes also competed in judo and tae kwon do at the Olympic Games in the first years they became medal-earning events for women, in 1992 and 2000, respectively.
More : http://www.egyptindependent.com/news/egyptian-female-martial-artists-break-norms-and-reap-benefit-self-defense-and-confidence