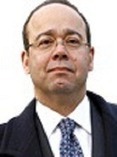 As far as my understanding goes, nothing similar has happened to Egypt like what it is currently witnessing. No other country has passed through this complicated phase we are living. There is this tampering with the state's constituents and a crazy surge towards tearing apart the country's fabric.
I do not think it has happened before that rulers let their country's situation reach this phase while they carelessly observed and are only concerned with being the sole leaders. What is certain is that rulers' chairs are comfortable. The ruling palaces are wider. Their jets cannot be compared with three-wheeled rickshaws seen on the streets. But what kind of enjoyment is this when the state is collapsing?

Egypt's ruling party only possesses an image of the state they want, and it is not a problem if the price is the collapse of the state which they are suffocating. This is what Emperor Nero did when he burnt Rome.
In 64 AD Nero had the idea of rebuilding Rome. Fire started at the Circus Maximus and vigorously spread for a week across Rome. The fire destroyed ten of the entire fourteen districts. As the fire spread and people screamed as they burnt, Nero sat in a high tower enjoying the scene of the fire (...)

Initial fears
What I say may seem over-pessimistic. But I see it as a realistic fear that could lead to tragic results.

The first of these initial fears is the complete disregard for any other power in society whether it is religious, political or ethnic. There are also their actions based on the logic that they are the country and their voice is that of the entire people and there is no voice beside it. They began to make statements regarding how they came into power. So they began to market the idea that they rule because voting was in their favor although they are the first of those who know how the results of these elections were and are controlled.

They know better about their own means. It is a snatched legitimacy on the truth's body nurtured by lies and elimination of others. The weakness that struck the opposing parties supports and nurtures this snatched legitimacy. But they are careless about the static force that they mistakenly think is under their control. (...)
Harming the concept of the state and pushing towards reaching a state of chaos is one of the features of the behavior of today's rulers. This is displayed in that devilish desire to push for causing a general confrontation between the people and the police. (...)
http://english.alarabiya.net/en/2013/03/17/Egypt-today-like-when-Nero-burnt-Rome.html