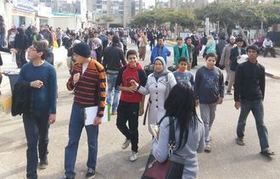 Kuwait was the guest of honour at the fair, which opened to the public from January 22nd to February 6th, while the featured author was the late Egyptian writer Taha Hussein.
"Turnout at this year's fair has exceeded expectations in light of the prevalent security conditions," said Mahmoud Junaid, a supervisor at the General Book Authority who served on the fair's organising committee.
Tight security measures ensured the fair went off without incident, he told Al-Shorfa, while the strong turnout was "a pleasant sight for visitors, organisers and publishers alike".
This year's fair drew 755 publishers from 24 countries; 518 from Egypt, 210 from Arab countries and 27 foreign publishers, he said, as well as 92 used booksellers from al-Azbakeya.
In addition to book sales, the fair included dozens of book signing events and seminars and featured new titles by several Egyptian and Arab writers as well as cultural, literary, poetic, artistic and cinematic evenings. There also were cultural events organised by the General Authority for Cultural Palaces, the most prominent of which honoured the late poet Ahmed Fouad Najm.
Book sales at this year's fair exceeded last year's by 60%, said Mahmoud Sharaf, an accountant at one of the exhibiting publishing houses.
"The majority of publishing houses have resorted to reducing prices of their new publications and offering discounts of up to 50% in order to encourage visitors to spend money, which has actually driven sales up," he said.
Book prices at the fair ranged between one Egyptian pound and 2,000 pounds ($0.15 and $287) for literary and scientific encyclopaedias, he said.
"Demand was up this year for biographies of politicians, stories and novels as well as religious books penned by moderates, satirical literature and of course textbooks," Sharaf added.