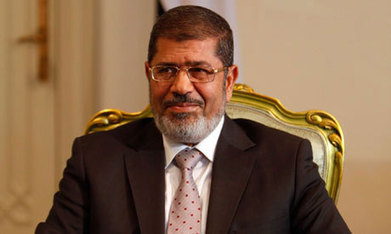 Egyptian President Mohamed Morsi will visit Russia next week, a state-run newspaper reported on Friday, in a visit market sources expect to focus on the cash-strapped Arab state's energy, wheat import and financing needs.


Morsi will meet President Vladimir Putin for talks that would explore "ways to strengthen cooperation between the two countries in all fields", Al Gomhuria reported, citing an anonymous source.

The Syria crisis would be high on his agenda, it said. The presidency could not immediately be reached for comment.

Egypt is grappling with an economic crisis caused by more than two years of political instability. The country's foreign currency reserves are at critically low levels and the government is struggling with an unaffordable deficit
More on:
http://english.ahram.org.eg/NewsContent/3/12/69087/Business/Economy/Egypts-Morsi-plans-Russia-trip,-wheat-and-oil-in-f.aspx