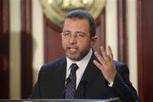 Egypt's Islamist-led government has asked independent legal experts to propose amendments to the new constitution, the state news agency MENA said on Tuesday, signaling that it may be heeding concerns of the liberal and leftist opposition.
Members of Egypt's main opposition bloc, the National Salvation Front (NSF), walked out of the drafting of the constitution last year in protest at what they saw as its Islamist slant, and have called for changes to enshrine more freedoms and rights, notably for religious minorities and women.
Eight people have been killed and many others injured in the last four days in one of the worst outbreaks of sectarian violence between Muslims and Christians since the uprising that ousted Hosni Mubarak in 2011.
MENA said Prime Minister Hisham Kandil had assigned a committee of scholars to review 10 to 15 articles of the disputed charter, which was rushed through parliament in December over opposition protests, and passed in a referendum.
Mohamed ElBaradei, a senior NSF leader, has spearheaded a campaign for amendments, and called his grouping the Constitution Party to underline the importance of the document.
More on:http://news.yahoo.com/egypt-gesture-opponents-eyes-constitution-changes-122618858.html