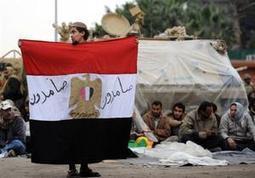 Unrest continued in several Egyptian governorates on Tuesday, as calls for civil disobedience escalated in canal governorates and spread to the governorate of Kafr El-Sheikh.

In reaction to the escalations, the presidency issued a statement on Tuesday stating that President Mohamed Morsi submitted a new law proposal to the Shura Council to re-launch Port Said's free trade zone. The statement added that Morsi has decided to allocate EGP 400m of the annual revenues of the Suez Canal to the development of canal governorates of Suez, Ismailia and Port Said and providing new jobs for their residents.

In Port Said, protesters entered the third day of civil disobedience criticising the government's management of investigations regarding the death of Port Said residents during violent clashesfollowing the court verdict on the Port Said massacre last month.

Protesters called for immediate investigations into the death of more than 40 Port Said residents and the injury of more than 100 people during the clashes.
Protesters also demanded the dismissal of the Minister of Interior and the chief of the Port Said security directorate, calling for them to be referred to trial for being responsible for the death of Port Said residents.
Reacting to the protests, the Strong Egypt and Al-Dostour parties decided to suspend their activities in Port Said in statements issued on their Facebook pages. Some media agencies reported that the Popular Current also suspended its activities in the canal governorate, but it was not possible to verify the media reports.
More on: http://www.albawaba.com/news/egypt-unrest-471908