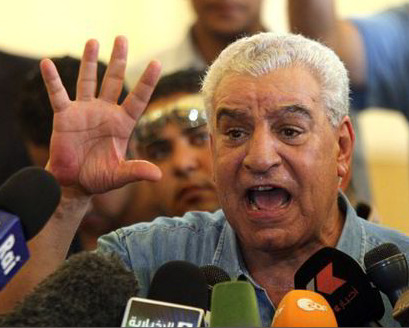 The warning follows the recent construction of a modern cemetery on the site of one of the world's first pyramids in the Unesco-protected site of Dahshur, pictured above.
More than 4,500-years-old, the edifice of the Black Pyramid of Amenemhat II now lies pockmarked "like Swiss cheese" as looters brazenly carry out nighttime excavations to find and plunder treasures.
It is just the latest of a series of sacred sites that have been allowed to fall into ruin after a decision to let police officers, who once safeguarded Egypt's proud past, abandon their protection duties.
Other danger sites include the ancient fortress town of Tuedjoi in Upper Egypt, upper Abu and Akhmim in Middle Egypt.
Speaking to the Sunday Express, Dr Zahi Hawass, a former minister of state for antiquities affairs until he was replaced following Egypt's 2011 revolution, said: "Our precious monuments are in real danger. I really fear for Egypt's rich historical legacy.
"The government is ignoring the danger to antiquities. Ministers aren't raising it with President Morsi because they don't want to rock the boat.
"Those in power want to keep their new positions and are afraid of criticising. In Dahshur, they have built a new cemetery above the causeway which links two pyramids, one of the 4th Dynasty and one dating to the 5th Dynasty. This was totally illegal.
"We have seen money intended for vital conservation and excavation projects diverted to give 7,000 jobs to people who don't actually work or do anything." (Express.co.uk)
More : http://www.express.co.uk/news/world/383102/Egypts-tomb-raiders-put-precious-monuments-in-real-danger