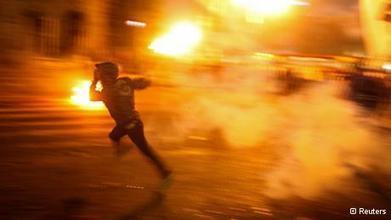 Egyptian police have stopped dissidents from storming a court and the prosecutor-general's office in central Cairo. Violence between Christians and Muslims in Egypt has also left five people dead, security officials say.
Security forces in Cairo used tear gas to prevent protesters from reaching a Cairo court and the office of the prosecutor-general on Saturday, according to witness reports. State news agency MENA also noted a major protest in al-Fayoum, to the south of Cairo. The government agency reported that eight people were injured and seven taken to hospital, citing the Health Ministry.
Nationwide protests were slated, and in Cairo on Saturday some 500 people marched through the city center, chanting "The people want to topple the regime" on the fifth anniversary of the founding of the opposition April 6 youth movement, which began when Egypt was ruled by ousted President Hosni Mubarak.
More on: http://www.dw.de/police-turn-away-anti-morsi-april-6-protests-in-egypt/a-16725666