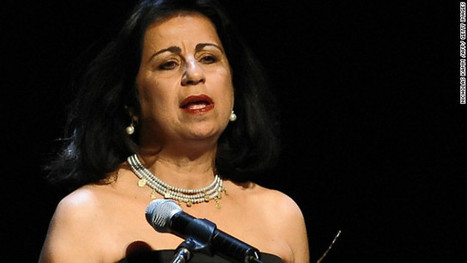 (CNN) -- Ahdaf Soueif isn't in one place for long. She has spent the last month touring India and Australia, and is back in her native Egypt for a few days before heading to London.
She is in demand for speaking engagements, particularly at literary festivals, to help the world understand political events in Egypt, still in turmoil more than two years after its revolution.
Soueif, 62, is a Booker-shortlisted author and political commentator whose most recent book "Cairo: My City, Our Revolution" gives a personal account of her involvement with the protests in January 2011 that led to the downfall of former president Hosni Mubarak.
Soueif is not one for commentating from a safe distance. On the day before we speak, she has yet again joined protesters on the streets of Cairo. (...)
For Soueif, the revolution that began in January 2011 is still a work in progress, because despite free presidential elections in June 2012, there have not been the changes in social justice that many were hoping for.
Despite the setbacks and continuing violence, Soueif is adamant the country is better off than it was before 2011.
"I'm very optimistic," she said. "The change that has happened in people was huge. People have broken free and expressed what they want."
More : http://edition.cnn.com/2013/03/08/world/africa/ahdaf-soueif-egytian-writer