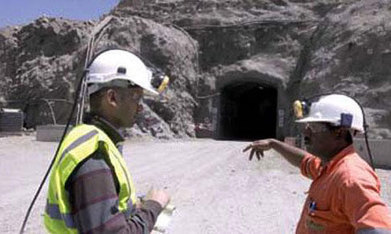 Workers at Egypt's southern Sukari gold mine, the head of Egypt's Mineral Resources Authority, and the foreign investor involved in the mining project reached agreement on Monday to reopen the mine and halt an earlier decision to dismiss striking workers.
According to Mineral Resources Authority head Fekry Youssef, a Monday meeting at Egypt's Ministry of Manpower and Immigration resulted in an agreement to comply with workers' demands, including promises to raise their subsistence allowances to 60 per cent of their basic monthly salaries (roughly LE950).
The foreign investor involved in the venture also agreed at the meeting to reinstate 34 workers that had been sacked earlier after holding a sit-in to press for their demands.
The issue will now be referred to an investigation committee that will include representatives of the ministry, Egypt's syndicate for mine and quarry workers, and the Mineral Resources Authority.
According to the agreement reached Monday, workers will continue to receive their monthly salaries until investigations are concluded.
Details of the agreement will be published in Egypt's Official Gazette, Youssef said.
The Sukari gold mine, located in Egypt's Red Sea city of Marsa Alam, is operated by Centamin-Egypt, a joint venture between the Egyptian government and an Australian gold-mining company. (Ahram Online)