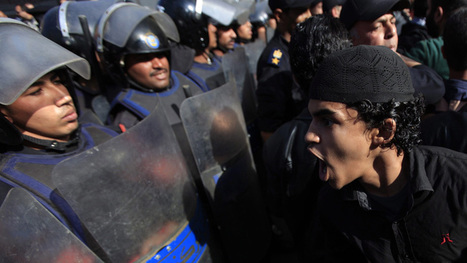 Egyptian rights groups alleged Wednesday that police abuse and brutality are on the rise in detention centres and at demonstrations, which have intensified since the second anniversary of the uprising that ousted longtime leader Hosni Mubarak.
More than a dozen groups charged in a statement that police were reverting back to the systematic torture that prevailed under Mubarak's autocratic regime. "Some of the crimes have even gone beyond that," the statement said.
The groups hold President Mohammed Morsi, Egypt's first elected leader after Mubarak's ouster, responsible for failing to stop or condemn such practices. They called on him to sack his interior minister, who oversees the police, and try him in connection with the deaths of nearly 60 protesters since last month across Egypt.
Interior Minister Mohammed Ibrahim denied Tuesday that his forces have shot at protesters, and said only the prime minister can fire him. Ibrahim said his forces don't confront peaceful protesters, and have only used tear gas to break up the deadly riots. (cbc news)
More : http://www.cbc.ca/news/world/story/2013/02/20/egypt-police-brutality-morsi-interior-minister.html