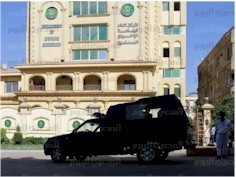 Muslim Brotherhood lawyer Abdel Moneim Abdel Maqsoud said he filed a report with the public prosecution against 14 parties, political movements and public figures who called for protests in front of the Guidance Bureau on Friday.
The protests call for the dissolution of the Muslim Brotherhood on the grounds that it does not have the correct legal status.
Abdel Maqsoud stressed that he respects freedom of expression, but only if it does not threaten public security or violate public and private properties. Any violence that breaks out in the course of protests in front of the Guidance Bureau is the responsibility of those parties who called for the demonstrations, he warned.
More on: http://www.egyptindependent.com/news/brotherhood-lawyer-complains-about-call-protest