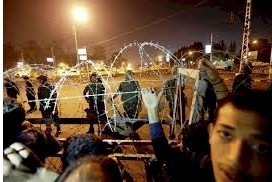 To many Egyptians, the armed forces seem like the last option to save their country and guide it towards the liberal democracy.


From the window of my office in the Moqattam district of Cairo, I followed with much curiosity Friday's violent clashes between protesters and Muslim Brotherhood members, outside the group's headquarters.(...)
The anger of the Egyptian people is now turning towards the Brotherhood (MB) to which President Mohammed Morsi belongs.
People understand that it is not the president who is making the moves that are hurting the nation's economy and threatening its stability, but the Brotherhood.(...)
Since the beginning of March, Egyptians from various backgrounds have joined demonstrations in different cities, calling for the military's return to political leadership.
Since the deadly riots in Port Said in eastern Egypt, in January and again this month, tens of thousands of ordinary citizens have gone to the offices of notaries public all over the country, to sign petitions calling for a return to military rule.(...)
A public opinion survey by my Ibn Khaldun Center over the past month discovered that no known political party or group is behind the wave of petitions. This is a spontaneous search for a viable and realistic alternative to Mr Morsi's failing government.
The surveyed sample involved Egyptians with different social and political backgrounds, urban and rural: greater Cairo, the Delta, Upper Egypt and the eastern governorates. Most of the people polled were under 35.(...)
The ultimate goal of the majority of Egyptians, especially the young people who led the drive to bring down former leader Hosni Mubarak, is to have a liberal democratic state.
Plus: http://www.thenational.ae/thenationalconversation/comment/as-turmoil-grows-in-egypt-army-rule-finds-new-support