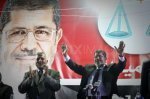 In Port Said, Ismailia and Suez, the curfew imposed by Mohamed Morsi is being ignored. As a sign of their contempt, young people are organising night-time soccer matches. Police no longer acknowledge the authority of the Interior Ministry. The grand imam of al-Azhar has gone in volunteer exile in protest against Islamists. Opposition parties and Christian Churches have given up on "useless" talks with the government. Even the poor and illiterate, the Brotherhood's main electoral base, are tired of being used as pawns.
"No one in Port Said, Ismailia or Suez is respecting the curfew ordered by President Mohamed Morsi. In Ismailia some young men have organised an overnight soccer match in one of the city's stadiums. In Cairo, where there is no state of emergency, Tahrir Square and the district of Heliopolis are guarded by thousands of people, a sort of mass sit-in that should last until the government meets the demands of the people, namely change the constitution, dismiss the government and force the resignation of the attorney general appointed by the president," this according to André Azzam, an Egyptian journalist who spoke to AsiaNews about the country's current chaotic situation (...).
"The Muslim Brotherhood is far removed from the needs of ordinary Egyptians," Azzam explained. "They are losing authority and popularity every day. No one wants to talk to them because they have nothing to say and only want to defend the power they have seized."
Christian Churches (Orthodox, Catholic, Protestant and Evangelical) and opposition parties have started boycotting them. For the latter, talks proposed by the president are "useless and meaningless". In a press release, the spokesman for the Egyptian Catholic Church, Fr Rafic Greiche, said that "the meetings are unproductive and lead nowhere."
For Azzam, the Christian minority and opposition parties are not the only groups keeping at arm's length from the Islamist establishment. Police and al-Azhar University are openly boycotting the government.