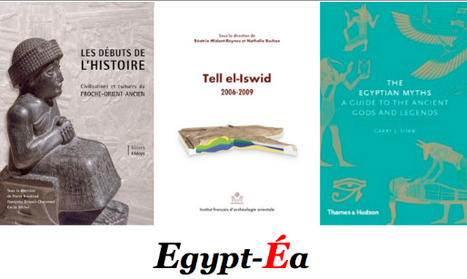 "Les Débuts de l'Histoire - Civilisations et cultures du Proche-Orient ancien"
Ouvrage collectif
éditions Khéops 2014, 518 pages
"Les plus anciens signes d'écriture datent d'il y a plus de cinq mille ans et ont été découverts à Uruk, dans le sud de l'Irak. Cette étape marque l'entrée dans l'Histoire. Grâce à ce nouveau moyen de communication, apparu à la même époque que les grandes cités-États de Mésopotamie, les hommes ont pu se projeter dans le temps comme dans l'espace, enregistrer leurs biens, faire des contrats, ou encore graver des codes de lois. Au fil des siècles, des scribes ont pu aussi consigner les hauts faits de leurs souverains, transmettre les savoirs et les mythes qu'ils tenaient des générations précédentes. En trois millénaires ont ainsi été élaborés, du Levant à l'Iran, des techniques, des institutions, des modes de pensée dont nous avons largement hérité. Des premiers alphabets aux premières bibliothèques, de la comptabilité aux mathématiques en passant par la médecine, des premières cosmogonies au monothéisme, cette histoire du Proche-Orient ancien montre comment des populations d'origine différente ont pensé le monde et réalisé d'innombrables objets, monuments et œuvres d'art qui ont traversé les siècles."
Une quarantaine de spécialistes ont participé à cet ouvrage, sous la direction de Pierre Bordreuil, François Briquel-Chatonnet et Cécile Michel.
********************
"The Egyptian Myths - A Guide to the Ancient Gods and Legends", by Garry J. Shaw
Thames & Hudson, 2014, 100 pages
An authoritative guide to the Egyptian myths that sheds new light on an ancient way of understanding the world
This survey of Egyptian mythology explores how the ancient Nile-dwellers explained the world around them. It delves into the creation and evolution of the world and the reigns of the gods on earth, before introducing us to the manifestations of Egypt's deities in the natural environment; the inventive ways in which the Egyptians dealt with the invisible forces all around them; and their beliefs about life after death.
Through his engaging narrative, Garry Shaw guides us through the mythic adventures of such famous deities as Osiris, the god murdered by his jealous brother Seth; the magical and sometimes devious Isis, who plotted to gain the power of the sun god Re; and Horus, who defeated his uncle Seth to become king of Egypt. He also introduces us to lesser known myths, such as the rebellions against Re; Geb's quest for Re's magical wig; and the flaying of the unfortunate god Nemty.
• The first deities – Amun-Re, king of the gods, Ptah, divine craftsman, and Atum, Lord of Totality – and how they created the world
• Legends of rebellion against the sun god and Geb's search for the magical wig of Re
• The murder of Osiris and Horus' triumph over Seth
• Powerful goddesses, such as Isis, Maat, Mut and Neith
• Ghost stories, and the demonic denizens of the afterlife realm, such as Ammit, devourer of souls
• The weighing of the heart during Osiris' judgment • Informative sections on the post-pharaonic influence of Egyptian myths
Which gods created the world according to the ancient Egyptians? How did they explain the sun's movements and its disappearance at night? In what ways did mythology permeate their lives? And what did they believe happened in the afterlife? The book explains how the Egyptians encountered the mythological in their everyday lives: gods, goddesses, ghosts and demons, beings that could be aggressive, helpful, wise or dangerous, all were prominent in Egyptian myth and legend.
Garry J. Shaw has a doctorate in Egyptology from the University of Liverpool and has taught at the American University in Cairo. He is managing editor and staff writer for the magazine Al-Rawi: Egypt's Heritage Review and teaches at the Egypt Exploration Society, London. His previous books include Royal Authority in Egypt's Eighteenth Dynasty and The Pharaoh: Life at Court and on Campaign.
****************
"Tell-El-Iswid - 2006-2009", Béatrix Midant-Reynes, Nathalie Buchez (éds)
IFAO, 2014, 320 pages
Découvert lors de prospections effectuées en 1987 par l'université d'Amsterdam, Tell el-Iswid s'est d'emblée présenté comme un site de première importance pour la connaissance du IVe millénaire dans le delta oriental du Nil. Tell el-Iswid fait partie d'un ensemble d'occupations humaines installées hors inondation, sur des gezira, qui témoignent des changements culturels majeurs ayant affecté cette partie septentrionale de l'Égypte à cette époque. L'un des principaux intérêts de Tell el-Iswid est de présenter une stratigraphie qui couvre la totalité du IVe millénaire. C'est vers cet objectif que se sont concentrés, de 2006 à 2009, les efforts de la mission française, dans le cadre de l'Institut français d'archéologie orientale, avec le soutien financier de la Commission des fouilles du ministère des Affaires étrangères. L'ouvrage présente l'ensemble des résultats obtenus de la réalisation d'une coupe transversale de 22 m de longueur sur 2 m de hauteur, qui a permis de préciser, de compléter et d'élargir la stratigraphie observée et décrite par l'équipe hollandaise quelque vingt ans auparavant. Les travaux effectués ont également permis d'appréhender les modes d'occupation de la gezira dans cette partie du tell, les traditions culturelles, qui connaissent des changements notoires, observables dans les structures domestiques – avec notamment l'apparition de l'architecture de briques crues –, dans les évolutions de la céramique et de l'industrie lithique. Les études conduites sur l'économie de subsistance, végétale et animale, montrent que de tels changements y sont également perceptibles.
Tell el-Iswid was discovered during prospections made in 1987 by the University of Amsterdam and was immediately found to be a site of the utmost importance to know about the IVth millenium in the eastern Nile delta. Tell el-Iswid forms part of a set of human settlements located away from floods, on geziras, that bear witness to the major cultural changes that have affected the northern part of Egypt, at the time. One of the main interests of el-Iswid is that it shows a stratigraphy covering the whole of the IVth millenium. This aim was the one the French mission focused on from 2006 to 2009, in the framework of the French Institute of Eastern Archeology, with the financial support of the Commission on Archaelogical Excavations of the Foreign Affairs Ministry. The works present the overall results of the implementation of a cross section of 22 m long and 2 m high, which helped clarify supplement and expand the stratigraphy that was observed and described by the Dutch team some twenty years ago. The works that were done also helped to understand the tenure of the gezira in this part of the tell, the cultural traditions which are experiencing notable changes observed in domestic structures – including the appearance of mud brick architecture – in the evolution of the ceramic and stone industry. Studies conducted on the subsistence economy, plant and animal show that such changes are also perceptible.