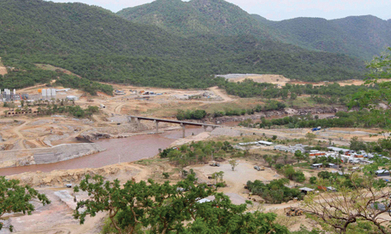 By Marina Barsoum
Minister of Irrigation Mohamed Abdel-Motteleb told Al-Ahram daily newspaper that Egypt may in a few days send an official statement demanding that construction of the Ethiopian dam be halted until a mutually agreeable solution is found.
Irrigation Ministry spokesperson Khaled Wassef told Ahram Online that four attempts to negotiate the matter, the last of which proved an utter failure, have already been extended by Egypt.
Abdel-Motteleb also told Al-Ahram daily that should the Ethiopian government offer new solutions, Egypt would nevertheless welcome a new round of negotiations.
"All proposals submitted by Egypt to the Ethiopian government have been obstinately rejected and without explanation," Wassef added.
The planned Grand Renaissance Dam is a $4.2 billion hydro-electric dam on the Blue Nile, one of the main tributaries of the Nile.
The project has been a source of concern for the Egyptian government since May last year, when images of the dam's construction stirred public anxiety about possible effects on Egypt's share of the Nile water, the country's main source of potable water.