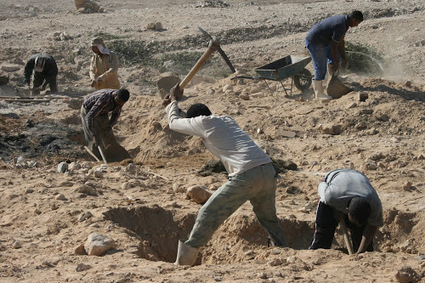 On the 7th of January 2014, workers started digging the site next to the dig house of Howard Carter, now known as Carter's House, at the entrance to the Valley of the Kings, Luxor. They were beginning work on the first ever replica tomb in the Middle East and one fit for a King. The project by Factum Arte and the Ministry of State for Antiquities (MSA) plans to open the facsimilie of King Tutankhamun's tomb later this year.
The replica was made possible by Factum Arte using high resolution recording and is a part of a major initiative by the MSA to preserve the tombs in the Valley of the Kings while making important tombs that are either closed or in need of closure accessible to the public and to scholars. The project was launched in collaboration with the University of Basel, The Friends of the Royal tombs of Egypt, the Foundation for Digital Technology in Conservation, The European Union and the Ministry of Tourism. The facsimile is identical to the original tomb from a normal viewing distance - this evidence of the quality of the high resolution digital data from which it was made- data which is essential to monitor the condition of the original tomb and to document its decay.
The project in Egypt has been carried out with the assistance of the Tarek Waly Centre and Past Preservers. Digging has begun for the underground chamber housing the facsimile and the adjacent exhibition space which will show the story of the opening of the Tomb.