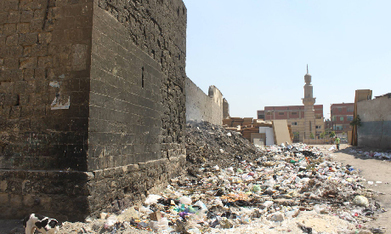 Al-Mawred Al-Thaqafy, a non-profit organisation that supports culture in the Arab world, has expressed its dismay at a decision by Egypt's antiquities ministry to prevent the organisation's usage of a historical site in Antar Stable, an under-privileged area in Cairo, for a culture event. The culture ministry, according to the organisation, requested a fee of LE22,000 for the one-night event.
According to Al-Mawred Al-Thaqafy, the deserted site is currently being used as a rubbish dump and is home to stray dogs.
The organisation wanted to use the space to host the closing event of a series of workshops under the project 'Hope for Work' in Antar Stable and another underprivileged area, Khairallah Farm.
This particular site was chosen for its location between both areas, to allow the residents and children of the neighbourhood to showcase their artwork after working with the project, and to raise awareness of the value of arts and culture and their rights to access culture.
Ahram online
http://english.ahram.org.eg/NewsContent/5/35/73840/Arts--Culture/Stage--Street/Cultural-nonprofit-complains-of-lack-of-access-to-.aspx