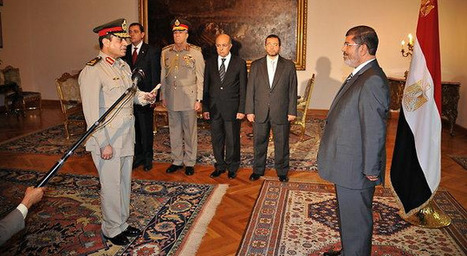 Sisi said that in SCAF's meeting with the president, Morsy listened to the army leaders' concerns regarding what they called insults to the military institution. Morsy rejected such insults and expressed his support for the Armed Forces and for SCAF, Sisi claimed.
Over the past two years, the Armed Forces didn't perform any offensive actions, the minister continued, adding that the military had completely withdrawn from the political arena after power was transferred to Morsy on 30 June 2012. Since then, SCAF had been focused on improving the army's efficiency and upgrading its equipment and resources at "unprecedented rates," Sisi claimed.
"The Armed Forces are loyal to the country ... [the military] is an honorable patriotic institution," he continued.
Al-Masry Al-Youm
More : http://www.egyptindependent.com/news/military-warns-media-think-carefully-offending-armed-forces