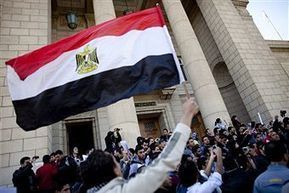 Egypt's 25 January Revolution produced few economic benefits for the country's poor even though they were instrumental in overthrowing the old order.

The Muslim Brotherhood has other economic priorities, including pushing measures that further economic liberalization in Egypt.
Given the Egyptian media's focus, it might be difficult to believe that Egypt's 25 January 2011 Revolution was not one of the educated middle class. On the TV screen, these shiny young faces appear on talk shows, portrayed as the leaders of the revolution.


But 28 January 2011's "Friday of Anger" belonged to the marginalized who – using the tricks they learned in their daily battles with the state apparatus in the slums – were able to defeat the police forces. Regardless, the media see the revolution differently: "This is the revolution of dignity and not of the hungry," they say.
This discourse paved the way for state repression of social demands. It even reached a point where the media began depicting Egypt's working class– those that bolstered the revolution's ranks with its mass mobilizations – of deliberately aiding the counter-revolution through strikes that hurt the economy. (...)
Post-Revolution, Little Help for the Poor
Even before the revolution, experts close to the ruling National Democratic Party saw signs of unrest rooted in growing poverty. This was clear in the First Investment Report: Towards a Fair Distribution of the Fruits of Growth prepared by the General Investment Authority in 2009, which warned of sharply rising poverty rates.
More on: http://www.albawaba.com/business/egypt-economy-unemployment-479976