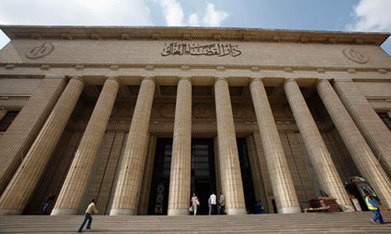 Protesters will gather at the High Court in Cairo on Tuesday in solidarity with five opposition activists summoned by the prosecutor-general for questioning over their alleged incitement of clashes at the Muslim Brotherhood headquarters on Friday.
Police have stepped up their presence outside the court in preparation for the expected demonstrations.

On Monday evening, the office of Prosecutor-General Talaat Abdullah summoned renowned blogger Alaa Abdel-Fattah, Popular Current member Ahmed Doma, National Salvation Front member Hazem Abdel-Azim, Constitution Party member Ahmed Eid, activist Karim El-Shaer, and journalist and blogger Nawara Negm for questioning.

Alaa Abdel-Fattah has said he will respond to the summons in order to protect his family from further police harassment. But the other summoned activists have said their will not respond.
More on: http://english.ahram.org.eg/NewsContent/1/64/67750/Egypt/Politics-/Cairo-protests-against-summons-of-opposition-activ.aspx