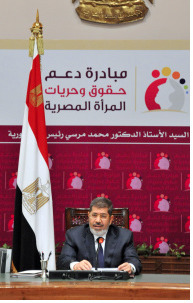 President Mohamed Morsi announced a new initiative on Sunday to support Egyptian women's rights which aims to expand the role of women and resolve their most pressing challenges.
The initiative's objectives include exploring methods that help improve the lives of women in Egypt, whether in rural or urban areas, while researching their status politically, economically, and socially. The project also aims at recognising and prioritising the challenges facing women across the country's 27 governorates. (...)
During the inauguration of the initiative, Morsi said the project is a response to deliberately negative campaigns that distort the status of women in Egypt.
"The initiative will put an end to any attempts to marginalise women, diminish their rights, or suppress their freedom and dignity," Morsi said.
In his speech, Morsi cited statistics showing high levels of illiteracy and unemployment among Egyptian women. He also mentioned that women are not fairly represented in senior leadership positions in the country.
Ethar Shalaby | Daily news Egypt
More : http://www.dailynewsegypt.com/2013/03/24/morsi-announces-initiative-to-support-womens-rights/