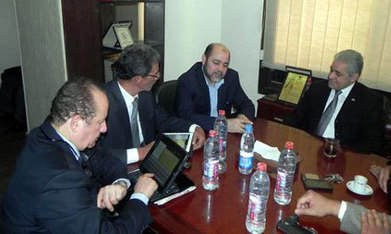 The Egyptian Popular Current, headed by leading opposition figure Hamdeen Sabbahi, met with representatives of the Gaza-based Hamas government on Thursday.
At the meeting, Popular Current members asserted their support for the Palestinian resistance group, despite the Egyptian opposition's adversarial position regarding the Muslim Brotherhood.
Hamas is an ideological offshoot of Egypt's Muslim Brotherhood movement.
Moussa Abu-Marzouk, deputy head of Hamas' political bureau, headed up the Gaza delegation to Cairo.
In a statement following the meeting, the Popular Current said that it had stressed its "dedication" to both the Palestinian national cause and the resistance movement, which, it asserted, was "essential to the success of all Egyptians."
Ahram online
More : http://english.ahram.org.eg/NewsContent/1/64/67430/Egypt/Politics-/Egypts-opposition-Popular-Current-meets-with-Hamas.aspx