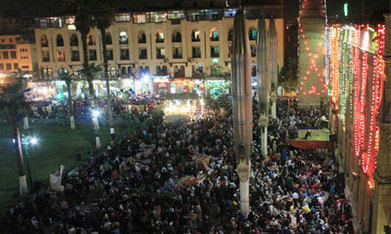 Much like the estimates of the size of the Coptic-Christian community in Egypt, the number of Shia Egyptians remains a point of contention: there are no official records. While some Shia activists claim the number exceeds eight million, the Salafists say there are only a few thousand.
For their part, activists El-Derini, El-Hashimi and Anwar Bahaa place the number between 800,000 and just under two million. "This figure is increasing, as many people are converting now," El-Hashimi claims.
The Shia community believes that ultraconservative Sunni groups downplay their numbers as a form of oppression.
"There is no official database at CAPMAS [Egypt's official statistics agency], which is a deliberate attempt to ignore any recognition of Egyptian Shiites," said El-Nafis.
(Zeinab El-Gundy / Ahram Online)
More : http://english.ahram.org.eg/NewsContent/1/64/67170/Egypt/Politics-/The-Shias-Egypts-forgotten-Muslim-minority.aspx?utm_medium=referral&utm_source=t.co