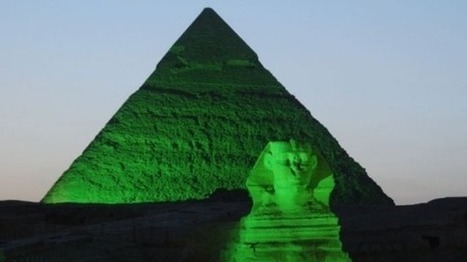 Green is the color, for all those celebrating St. Patrick's Day on Sunday. And the celebrations have spread across to Egypt, where the Pyramids of Giza are being showcased in a new light.
Wanting to spark a buzz, Tourism Ireland has sealed a deal to bathe the world's top tourist destinations in green to mark of Ireland's national day.
"The reason we do it is to create a buzz and to spark interest, to celebrate the unique nature of what it means to be Irish. To make people smile and to make them think of Ireland around March 17," Bernard McMullan, a spokesman for Tourism Ireland, told NBC News this week.
"St. Patrick's Day is our one day when we are front and center in the world's consciousness and we're very, very lucky in that respect ... we try to make sure that we maximize that from a tourism and cultural perspective." (Al-Arabiya)
More : http://english.alarabiya.net/en/2013/03/17/Green-in-Giza-Pyramids-light-up-to-celebrate-Ireland-s-St-Patrick-s-Day-.html