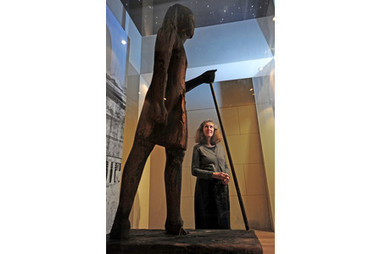 David Clensy gets a sneak preview of the British Museum's Pharaoh: King of Egypt exhibition, which opens at Bristol Museum this weekend
When it comes to bouncers, there are few with the poise and presence of Ramesses II.
A larger than life-size bust of the ancient Egyptian pharaoh looms towards you from the moment you step inside the latest exhibition to arrive at Bristol Museum and Art Gallery.
He may be only made of granite, but with his unblinking stare looking straight at you, it's difficult not to be slightly intimidated.
As I arrive though, the royal figure is surrounded by a flurry of activity – as experts from the British Museum scurry around the room, delicately unpacking priceless ancient artifacts from enormous metal cases – each stamped boldly with the word "FRAGILE".
The national touring exhibition is the largest UK loan of Egyptian artifacts ever undertaken by the British Museum, and despite the £5 entrance fee, staff at Bristol Museum are confident that the show is likely to be popular.
"We are predicting 45,000 visitors over the 12 weeks," says Sue Giles, senior collections officer for museum. "Ancient Egypt is always an incredibly popular subject – we're all fascinated by the world of the pharaohs, and of course ancient Egypt is still a major part of every child's history syllabus at school.
"It's wonderful for us to be able to host these historic items here in Bristol, because the artifacts from the British Museum collection complement our own Egyptian collection wonderfully.
"But as you might expect, the items from the British Museum are some of the finest pieces. Our resident collection is mostly bronze and pottery, and relates to day-to-day life for ordinary ancient Egyptians. But the majority of these items are gold and silver, and relate directly to the lives of the highest status people in Egyptian life – the royal pharaohs."
More on: http://www.thisisbristol.co.uk/story-18392646-detail/story.html#axzz2NPXy79Y5