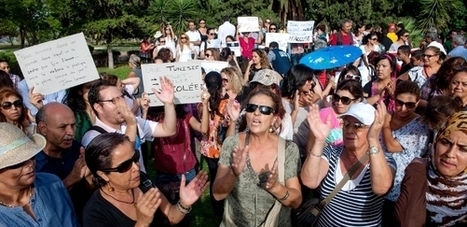 Though women across the Middle East participated actively in the Arab Spring protests that began in late 2010, they remain second-class citizens, even where popular uprisings managed to topple autocratic regimes. (...)
Harassed, arrested, raped, and tortured
Unfortunately, conservative forces in the Arab world repeatedly turn against women when political unrest spreads. In Bahrain, several women protesters have been arrested and tortured. In Yemen, the authorities call on male relatives to "tame" their women.
In Tunisia, the most Westernized of the Arab countries, women have been attacked at universities and schools, and are being forced to wear the hijab. A woman who was allegedly raped by two policemen in September 2012 was charged with public indecency when she filed a complaint.
Likewise, in Egypt, women protesters face greater scrutiny than men. Those arrested by the military during the anti-Mubarak protests were subjected to virginity tests as a form of intimidation. Across the Middle East, Islamist militias have harassed, arrested, raped, and tortured women pro-democracy activists. The model of Iran's Islamic Revolution in 1979, which imposed second-class citizenship on women, is frequently cited as a threat in Arab countries now ruled by Islamist parties.
The connection between economics and women's rights
These countries are at a crossroads. Women make up half of the Middle East's population, and any hope of political and economic development must account for that fact. Organizations like the United Nations Development Program have repeatedly issued reports demonstrating the connection between economic decline and oppression of women. Simply put, the Arab countries will not succeed unless women are fully integrated into political and economic life.
Moha Ennaji : en.qantara.de
More : http://en.qantara.de/Arab-Womens-Unfinished-Revolution/20778c23003i1p523/index.html