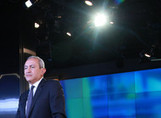 Orascom Construction Industries, (OCIC) the Cairo-based company transferring to Amsterdam, said Egypt hasn't informed it of new tax claims after imposing a travel ban on billionaire Chief Executive Officer Nassef Sawiris.


Sawiris and his father and former Chairman Onsi were forbidden to travel and placed on an arrivals watch list, Moustafa Dweidar, a spokesman for Egypt's Public Prosecutor's office, said yesterday in a telephone interview. The Sawiris' are accused of owing 14 billion Egyptian pounds ($2.1 billion) in back taxes, the state-run Middle East News Agency reported yesterday, citing an unnamed judicial official.


"The Egyptian Tax Authority has submitted a tax claim to the company to pay 4.7 billion pounds related to the sale of Orascom Building Materials Holding to Lafarge SA (LG) in 2007," the company said on its website. "To date, the company has received no additional claim with any different tax liability."
Orascom Construction said it filed an appeal against the claim, which is under review by the Egyptian Tax Authority's appeal committee. The company said it's "confident" it didn't violate any laws pertaining to the sale and hasn't received formal notification of a travel ban related to the sale.
More on: http://www.bloomberg.com/news/2013-03-03/egypt-bans-oci-chief-sawiris-from-travel-over-tax-evasion-claim.html