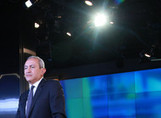 Nassef Sawiris, chief executive of Orascom Construction Industries, has been banned from travel by Egypt and placed on an arrivals watch list, the state-run Middle East News Agency said, citing an unidentified judicial official.
Sawiris, head of Egypt's biggest publicly traded company, and his father, Onsi, are accused by Finance Minister El-Morsi EL-Sayyed Hagazi of owing 14 billion Egyptian pounds ($2.1 billion) in back taxes, MENA said. OCI, which has construction and fertilizer units, represents about a quarter of the EGX 30 Index. OCI's investor relations manager, Omar Darwazah, said by phone that he was unable to comment on the travel ban.
President Mohamed Mursi said in an Oct. 6 speech that the government is seeking to recover money it's owed by companies. While not identifying any company, he said one of them avoided paying tax on a profit of about 80 billion pounds from the sale of an asset by listing it on the stock exchange two months previously.
OCI sold its cement unit, Orascom Building Materials Holding, in December 2007 to France's Lafarge SA (LG) for 8.8 billion euros ($11.5 billion) after it was relisted on Egypt's exchange in October of that year.
More on: http://www.bloomberg.com/news/2013-03-03/egypt-bans-oci-chief-sawiris-from-travel-over-tax-evasion-claim.html