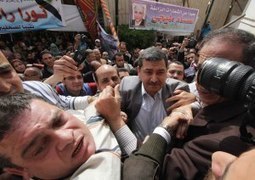 Journalists protesting outside of the Press Syndicate building in Cairo on Friday attacked the current president of the Syndicate Mamdouh Al-Wali as he attempted to enter the building. According to Gamal Abdel Reheem, a board member of the syndicate, Al-Wali managed to escape the scuffle unharmed.
The Journalists are protesting against the death of Al-Hosseini Abu Deif, who family and friends say was targeted by the Muslim Brotherhood for documenting the group's assault on protesters during the presidential palace clashes in December. Abu Deif was shot in the head and collapsed into a coma before passing away a week later on 12 December.
Protesters are demanding the prosecution make a decision regarding the circumstances surrounding Abu Deif's death. "The prosecution has been delaying the case and the protesters want things to be settled," Abdel Reheem said.
Al-Wali is a Muslim Brotherhood member who also occupies Al-Ahram's top position. Earlier this year he made a public statement saying he would not be contesting the position of syndicate president given his position at Al-Ahram, Egypt's state-owned news agency.
More on: http://www.dailynewsegypt.com/2013/03/01/press-syndicate-president-attacked-by-journalists/