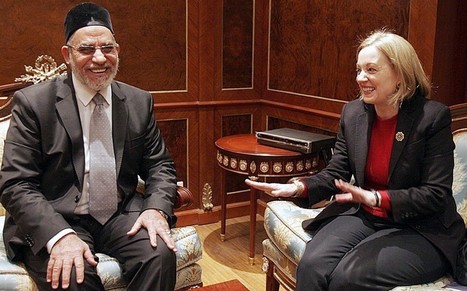 America has been accused by liberal activists of tacitly supporting the new Islamist leadership, even after it introduced a hardline new constitution. Bahieddin Hassan, a human rights activist who briefed President Barack Obama on a trip to Cairo three years ago wrote an open letter this month accusing him of "giving cover" to the regime and "allowing it to fearlessly implement undemocratic policies and commit numerous acts of repression".
But in her speeches, Anne Patterson, the ambassador, implicitly accused the government of "catastrophic" lack of leadership on the failing economy and called for it to develop a "thicker skin" in dealing with press criticism.
Western diplomats and politicians have quietly met Brotherhood leaders for years, even when it was a banned organisation under the regime of a man they saw as a strategic ally, President Hosni Mubarak.
Since the revolution, the White House's attitude has been ambiguous, but it has refrained from overt criticism, even over a new constitution which hardened Sharia law, backtracked on human rights promises and made "insulting people" a criminal offence.
At a speech in Alexandria last week, though, Mrs Patterson referred toEgypt's growing economic crisis, with the currency in freefall and a long delay in approving a $4.8 billion (£3.1 billion) loan from the International Monetary Fund.
(Richard Spencer/The Telegraph)
More : http://www.telegraph.co.uk/news/worldnews/africaandindianocean/egypt/9885685/US-criticises-Egypts-lack-of-leadership.html?utm_medium=referral&utm_source=t.co