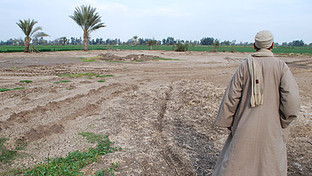 Rob has been talking to some farmers about how their way of life is being eroded and how others in Egypt are adopting new technologies to feed a growing population.

Our green land is shrinking, working people like me, have always been farmers; we weren't meant to be builders. It has been a huge rise in the amount of farm lands being destroyed for building.
Egyptian Farmers' Union reckons that as much as 20% of the country's famously fertile land have been built on since the Revolution, two years ago.