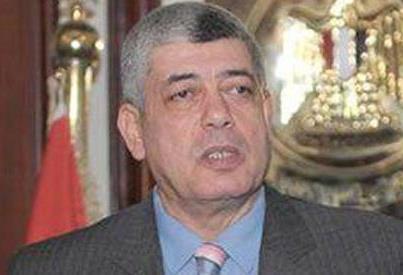 Egypt's Interior Minister warned yesterday that if country's police forces were to collapse, Egypt would become a militia-state like some neighboring countries.
The grim assessment by Interior Minister Muhammad Ibrahim— who offered to resign if it were to satisfy the Egyptian people—comes after eight days of protests that killed nearly 60 people.
Furthermore, a video of a demonstrator stripped naked, dragged across the ground and beaten with batons by helmeted riot police has fired Egyptians to a new level of outrage.(...)
However, the protester in the video, Hamada Saber, later said in an interview from his hospital bed that the riot police were helping him rather than beating him, a statement Saber's family disputes and says was made under police pressure. Moreover, Saber's hospital statement contradicts the Interior Ministry's statement.
Speaking to reporters Interior Minister Ibrahim said that initial results from the public prosecutor's investigation show that 48-year-old Hamada Saber was undressed by "rioters" during skirmishes between police and protesters. He was then hit in the foot by a bird shot, the interior minister said, stopping short of saying if the injury was a result of police firing into the crowds.
"The central security forces then found him lying on the ground and tried to put him in an armored vehicle, though the way in which they did that was excessive," said Ibrahim.


However, a woman identifying herself as Mr. Saber's daughter Randa, said in on Egyptian television that her father was forced to lie during the interview and was "afraid to talk."(...)
"This shows that state institutions are collapsing, as is the rule of law. We are living in chaos," said lawyer Achraf Shazly, 35. "Next thing you know, the martyr killed yesterday will rise from the dead and say he wasn't shot." (...)
The rise of Mursi—the first freely elected leader in Egypt's 5,000-year history—is probably the single most important change achieved by two years of revolts across the Arab world. But seven months since taking office, he has failed to unite Egyptians. Street unrest and political instability threaten to render the most populous Arab state ungovernable.
The latest round of violence was triggered by the second anniversary of the uprising against Mubarak and death sentences handed down last week in Port Said over a soccer stadium riot.
Mursi has had little opportunity to reform the police and security forces he inherited from Mubarak and the military men.(...)
"The instructions of the interior minister to use excessive violence in confronting protesters does not seem like surprising behavior given the clear incitement by prominent figures in the presidency," said opposition coalition spokesman Khaled Daoud.