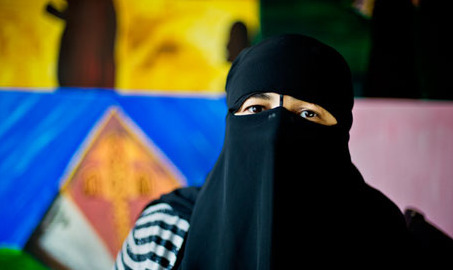 What's it like being married to a man who has spent 13 years in UK prisons fighting deportation to the US on terrorism charges – and seeing him finally lose that battle?

Ragaa met Adel Abdul Bary, the man who would become her husband, in 1981. Her Egyptian family had moved from the countryside into a flat near the centre of Cairo. In those days she was a girl in tight jeans and a T-shirt, with long hair below her waist, though at her parents' insistence she tied it back in a plait, and was not allowed to wear makeup. At Cairo University, Ragaa found herself doing business studies instead of the art or music she had wanted to do, because her final school exam results were not good enough.
(...)
After Adel's return from a year's study in Yemen, there was a formal written Islamic marriage. Ragaa thought the life she had imagined was about to begin but soon Adel was arrested like so many thousands opposed to the Mubarak regime. She spent six months travelling with his sister to every prison in Egypt to try to find him. When she finally did, he was a veteran of torture – by hanging, electric shock and solitary confinement underground. There had been a period of hospitalisation, followed by ordinary prison. No one knew when Adel would be released, or if he ever would. (...)
Eventually Adel left for the US, and then later the UK. He had finished his degree in prison and was soon a well-known human-rights lawyer; he had strong contacts with Amnesty International in those years when arrests in Egypt of suspected opposition figures were in the thousands. In 1990, Adel gained refugee status in the UK, three years after he had arrived. Ragaa and the children joined him, and for five years they lived a quiet family life in London. Ragaa spoke little English, only went out occasionally, always with her husband and his friends and their wives. "He did everything, everything, for me and the kids here in London," she says. "And I was happy because he was with me, playing with the kids, taking us to the park – it was the normal life we never had in Egypt."
More on: http://www.guardian.co.uk/world/2013/feb/20/wife-of-alqaida-terrorist-suspect