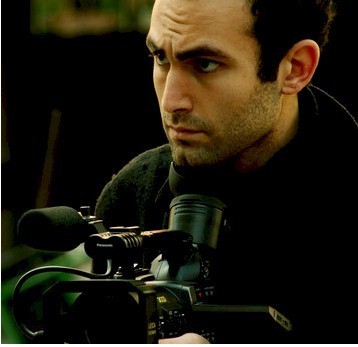 Khalid Abdalla is a British-Egyptian actor, producer and filmmaker. He studied at Cambridge University and École Philippe Gaulier in Paris. His work in Cairo centres on three collaborative spaces he participated in founding: Zero Production, Mosireen and Cimatheque, working respectively on independent film production, alternative citizen based media, and film education and screening. Credits as an actor include Paul Greengrass's Oscar nominated United 93, Marc Forster's The Kite Runner, and Green Zone, in which he stars opposite Matt Damon. He tweets from @mosireen)
Khalid Abdalla was asked to write a text on 'Testimony' for an exhibition called 'Cairo. Open City. New testimonies from an ongoing revolution.' Scheduled to be published sometime in April (...)
Testimony
A revolution is an act of sight. Like a miracle, it makes visible what seemed beyond the horizon, bringing power structures into focus, reshaping what once appeared indestructible. As such, a revolution is also a battle with time. How long does it take to reach what you've seen? Meanwhile, miracles develop into stories, and stories are easily manipulated. The more time passes the more stories are told, the more the miracle is called a delusion, the more the sight is turned into darkness. (....)
Turbulence
Stability is a lie. The idea that stability protects us is another lullaby. What protects us is our ability to adapt, endlessly. Change is more valuable than nostalgia. While beautiful moments repeat themselves, just like darker ones, each repeat is never the same. Renewal is better than repetition, and more daring.
In a revolution, you have to dare and risk failure because you have already accepted that what you knew as stability is certain disaster. But daring is exhausting, and laziness is a human right. Where do you strike the balance? For a good while, you don't. (...)
Martyrs
We have had over a thousand martyrs since this revolution began and at no point on our journey have we not known that there will be more. Despite having filmed hundreds of videos with martyr's families, no one has ever filmed a martyr speak. Even when they seemed to have foreknowledge of their death, their words only ever exist in retrospect, and the images of their dead bodies are often something like a final statement.(...)
Celebration
The world witnessed a celebration on February 11th 2011. It has since decided to disregard that vision, and written into the story a failed process to transition to democracy, hijacked quite simply by the Muslim Brotherhood. Which is to say it wrote its own ending onto the story of what is happening, taking with it the days when people approached an Egyptian with a sense of complicit happiness, and replacing them with a moment when the subject is approached with awkwardly apologetic curiosity.
More on: http://tahrirsquared.com/node/2412