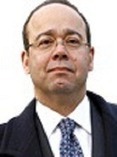 Many were angered when I stressed my belief that judges should rather starve than abandon their principles and I do not know how many more will be angered today when I say that nations should rather starve than abandon their values. Currently, we are being ruled by people who are stripping Egypt of its traditional role among nations as a country that has always provided shelter, guaranteed safety and given hope to those who have found all other doors closed.
Egypt has historically provided refuge to whoever sought it and among its first refugees was Jesus Christ, whose trip to Egypt with the Virgin Mary to escape the Romans, is considered one of the most prominent cases of political asylum in world history (...)


News rulers, new rules!
The new rulers in Egypt and Libya have started implementing an agreement to turn over Libyans to Tripoli, a deal that tarnishes the image of Egypt as a country known throughout history to have provided protection to those who sought it. Two days ago security forces stormed the house of Ahmed Gadhaf al-Dam, a cousin of the late Libyan leader Muammar Qaddafi, in a shocking manner that defies logic and goes against our values.
few weeks ago, reports were leaked about this agreement which stipulates that around 1,800 Libyans linked to the former Qaddafi regime and residing in Egypt will be turned over to Libyan authorities (...)
This questionable deal got Egypt's rulers $3 billion and promises of job opportunities for Egyptians in Libya. A Washington-based research center revealed that this deal between the Muslim Brotherhood and the Libyan authorities was made in return for oil investment opportunities in Libya's eastern provinces.
More on: http://english.alarabiya.net/en/views/2013/03/22/The-Egyptian-Brotherhood-s-dollar-game-.html