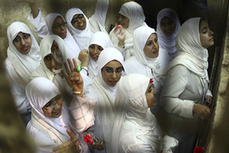 By Enas Hamed

In Egypt, women who have been arrested and human rights organizations are raising their voices about the physical and psychological abuse women are subjected to in prisons, detention centers and police departments.
While the number of women arrested since the June 30 events is unknown, according to the Wiki Thawra website 21,317 people were arrested between June 30 and Dec. 31, 2013. This figure includes women, some of whom reported being subject to abuses during and after their arrest.

Tasneem was one of these detainees. A fourth-year student at the Faculty of Medicine at Al-Azhar University, she was arrested on campus on Dec. 30 during a protest organized by the Al-Azhar student group against police having permission to enter university campuses. She told Al-Monitor that a number of security members chased her and grabbed her by her clothes. Tasneem said although she told the security force members she would surrender without their pushing her, one of them dragged her by the hand to force her into a police car. When she fell to the ground, she said nearly 15 security officers gathered around her, kicking her in the back and abdomen and pulled her to the car, where an officer hit her with a baton on sensitive body parts and slapped her face multiple times.